STICS| STream Indexing and Commenting System
"STICS" great advantage is that it registers recorded footage and then offers access to restricted members through streaming on a unique server over the internet. The "viewing screen" enables one to view the video and leave comments on particular scenes. The "reading screen" shows a list of comments from numerous participants. It is possible to pick up comments from particular individuals or groups. Furthermore, by clicking on a comment on the "reading screen" the footage for the scene the comment refers to will play on the "viewing screen," offering the possibility for more effective consideration of the comments.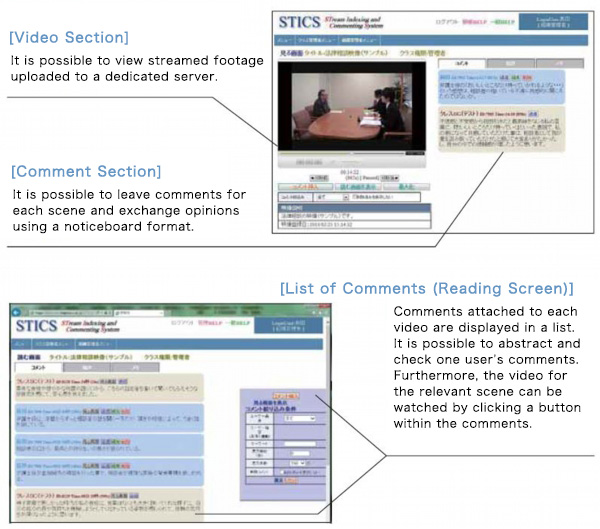 *There is also a "STICS-mini" which can be operated on a laptop in a LAN environment as a simple server.
PSC | Professional Skills Commentator
"PSC" is a software that enables the easy compilation and display of video material with attached comments using the recordings of simulated scenes, such mock trials and mock consultations. With a laptop and webcam, it is possible to use STICS basic functions (viewing footage, attaching comments to any scene, playing footage from relevant scenes) in addition to recording film.
db-MASC | data base for MAterials of SCenario
"db-MASC" is a system for sharing the scenario materials and document materials for mock trials and mock consultations. Users (registered teaching staff) login with their ID and password, and after viewing a summary of the materials in the overview of contents screen, may download the documents in PDF form and view the contents.