Tool development
DRS(Digital Recording Studio)
"DRS" is a system in which four high-definition cameras are installed in the criminal court classroom and the civil court classroom to record the bench, the prosecution seat, the defense seat, and the witness stand, and all of these videos can be recorded and played back in quadripartite at the touch of a button in the courtroom classroom.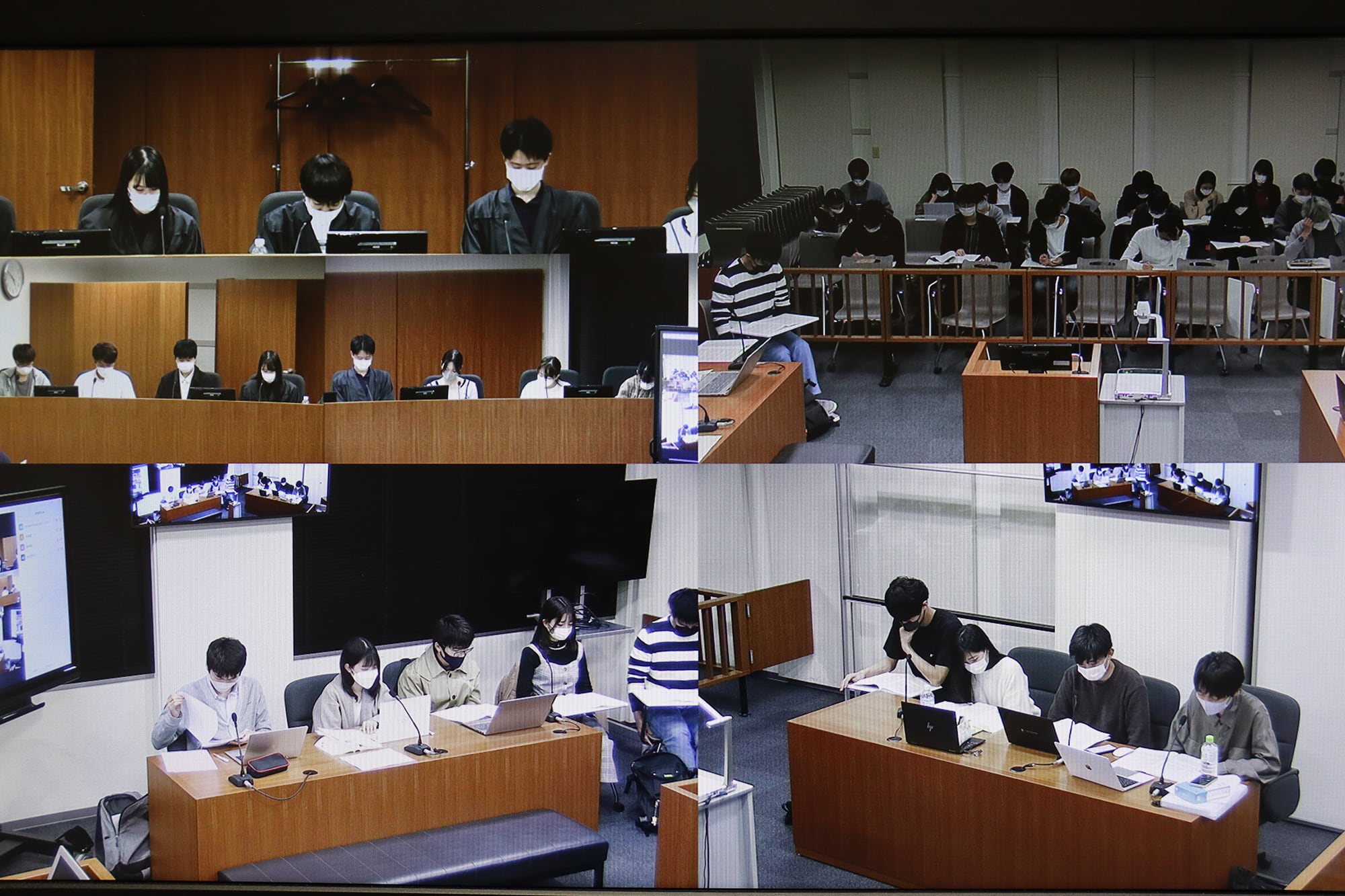 Upper left photo
The bench video
It is also available for jury trials and can record all the judges.
Upper right photo
Witness stand video
In addition to the video of the witness, it is also possible to project the presented materials and evidence on the screen using the document camera installed next to it.
Bottom photos
Prosecutor seat video
Defense seat video

PSIM Webcas(PSIM Webcast system)
" PSIM Webcas " is a system that delivers courtroom footage using any Web conferencing system, such as Zoom or Teams.
View of quadripartite of the courtroom to be delivered.
It provides a sense of realism for observers outside the courtroom.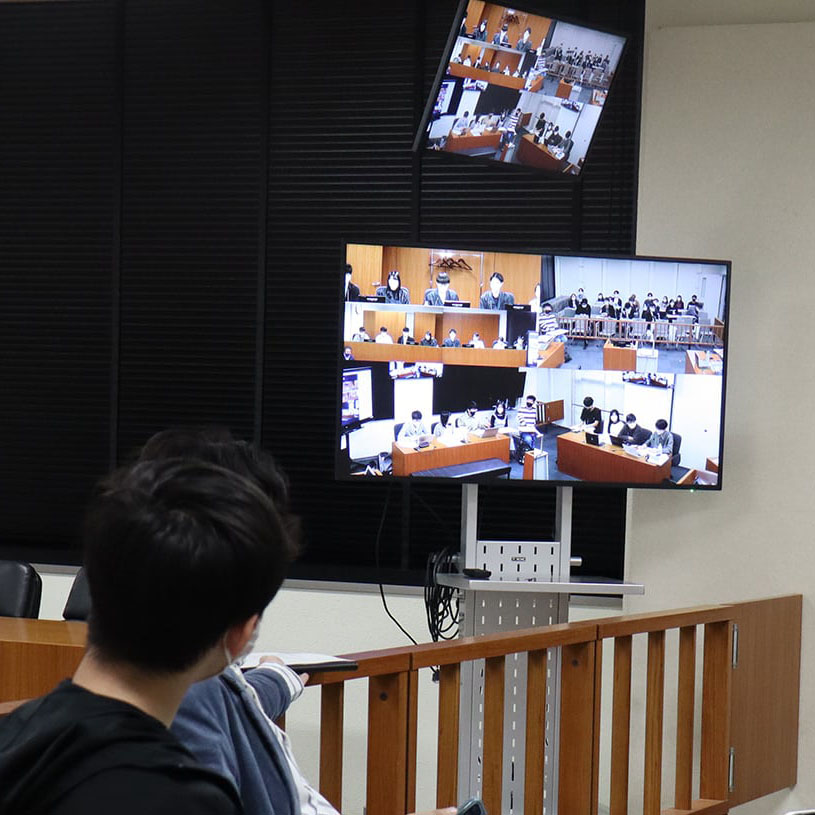 Mock Courtroom Set
The "Mock Courtroom Set" is produced in collaboration with actor, director and stage manager Mr. Yasuo Kaneko and the PSIM Consortium. This set is a stage set to create a more realistic atmosphere when holding events such as mock trials in a large hall. It can be set up around existing desks and is foldable, making it easy to store, transport, and set up.
It can be used not only for law school classes, but also for undergraduate seminars, open campuses, and various other events.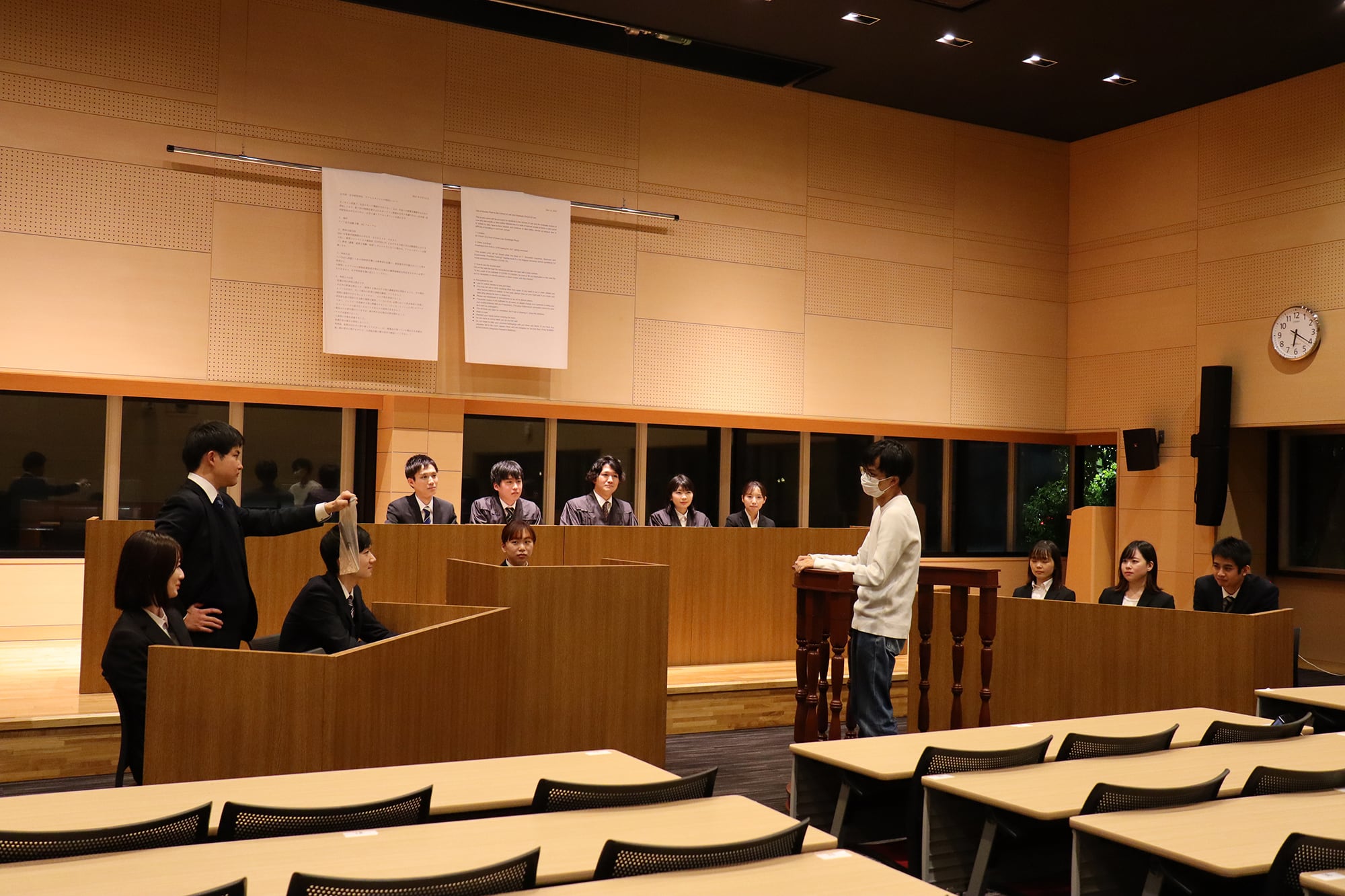 PF-Note(Uchida Yoko Co., Ltd.)
PF-Note is an active learning tool that supports communicative teaching between teachers and students. One of its functions is to record video clips of practical legal skills education classes, such as mock legal consultation and mediation, and to mark points on the recorded video clips that you want to look back on later using a clicker (a mobile terminal such as a smartphone), allowing you to visually confirm those marked points. This allows for more efficient learning of points for improvement in simulation education.
Meeting OWL Pro (SOURCENEXT CORPORATION)
Meeting OWL Pro automatically detects the speaker and switches screens, and is equipped with a microphone and speakers in addition to a 360° camera, making it possible to use this single product for hybrid face-to-face and online classes.